The Royal Albert Hall Stars are unveiled - comprising a name engraving, a dedication and a small brass star, they are set around the outside of the Hall. The first 11 engraved paving stones are dedicated to the most famous faces who have contributed to the venue in the past 150 years. More will be added in the coming years.
The first star is dedicated to Queen Victoria, who laid the foundation stone in 1867 ahead of its official opening in 1871. Another pays tribute to the Suffragettes who held 25 meetings at the hall between 1908 and 1918. 
Sir Winston Churchill is honoured for the 16 rousing speeches he made there between 1911 and 1959, as is Albert Einstein, who addressed the venue in 1933 about his fears over the state of Europe ahead of Hitler's election that year. Muhammad Ali, who made three appearances at the hall between 1971 and 1979, also has a stone.
Eric Clapton, who has performed there 200 times, and Dame Shirley Bassey, who has performed 45 times, are honoured, as is The Who frontman Roger Daltrey, who has hosted several Teenage Cancer Trust concerts since 2000. The Who and other rock and pop acts were temporarily banned from the hall after rowdy shows by several bands. 
Singer Adele, 30, is the youngest celebrity to receive the honour. Her 2011 rendition of Set Fire To The Rain at the hall won a Grammy for best pop solo performance.
The Stars are located under the canopy all around the building, and they each feature an engraved stone topped off with a brass star. They are dedicated to key players in the building's history, from its opening in 1871 to the present day.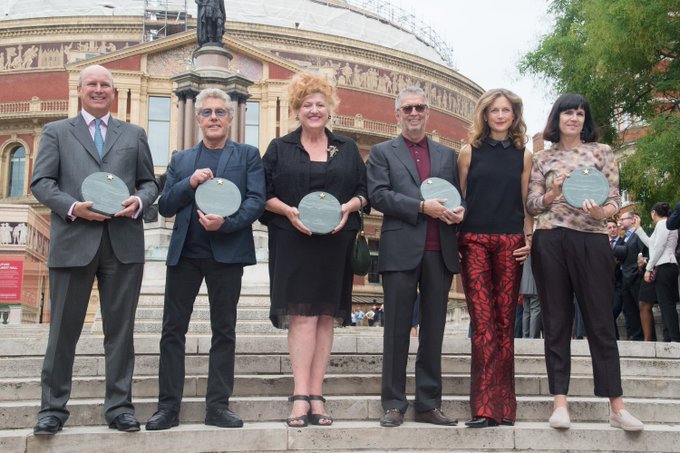 Eric Clapton, the man who played at the Hall the most (over 200 times!!), attended the event, alongside BBC Proms' Katie Derham, Roger Daltrey Sir Winston Churchill's great grandson Randolph, and Catherine Mayer, co-founder of the Women's Equality Party, who accepted the Star on behalf of the Suffragettes.
Learn more about the Royal Albert Hall Stars here.